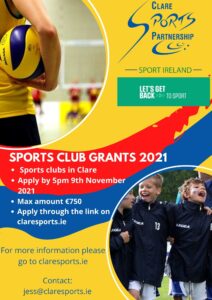 Club Grant Scheme 2021
This club small grant scheme aims to help clubs get back to sport post-covid restrictions. It is to support increased participation in Sport and Physical Activity and develop opportunities within our target groups – young people, women in sport, disadvantaged groups, ethnic minorities, people with disabilities, and older adults. The grant scheme aims to assist new and existing not-for-profit clubs in creating structures that provide long term development and benefits to the club. This grant could be used to support new equipment or training volunteers/ coaches.
Ineligible Projects: Capital/ building projects, day to day running of the club costs (transports/ rent/ insurance/ coaching costs), applications from clubs for profit, applications from individuals, clubs not affiliated to a relevant National Governing Body.
Eligible Projects: Projects which increase Sports participation post covid restrictions, introduction of new sports projects for Clare Sports Partnership target groups, projects which will have a wide geographical impact, projects which will provide for a large number of participants, sustainable projects, outdoor education community projects for target groups (not trips), start-up of new clubs/ extension of existing club activities, education/training for coaches or volunteers and additional physical activity opportunities in communities.
The Application Process
Clare LSP will consider applications based on the information provided in the application form and having regard to the number of applications received, and the financial resources available to us in respect of the Scheme. Priority will be given to supporting new initiatives that will result in increased participation, while local needs, circumstances, and gaps, if any, will also be taken into account. All applications will be scored on a matrix. Following this application – you will be contacted regarding a decision and/or a request for further information relating to your club or project.
 Round 2 is now open until the 9th of November 2021.
Please follow this link for the application.
If you have any questions, please contact Sports Development Officer Jessica O'Keeffe: jess@claresports.ie 085-8150606