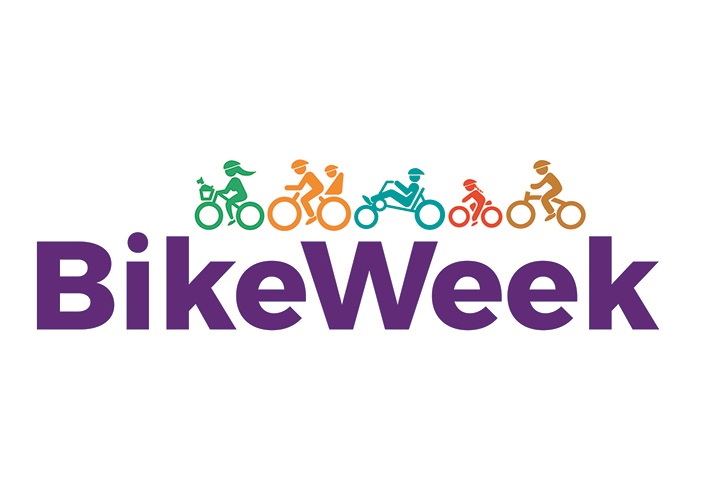 Clare Sports Partnership and Clare County Council are delighted to present the following cycling events to the people of Co. Clare for Bike Week 2023 from 13th to 21st May: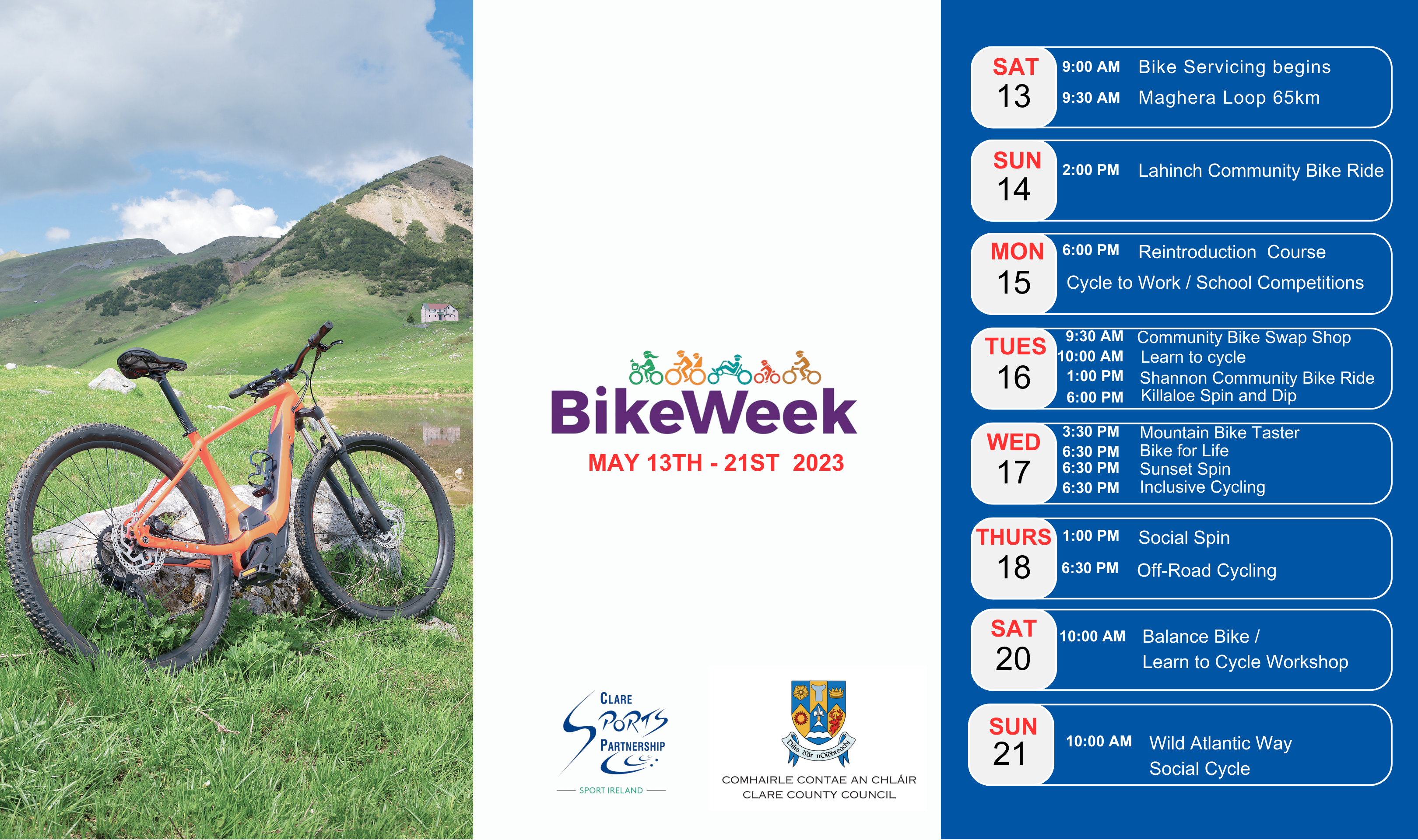 Saturday, May 13th
Maghera Loop 65km
This event has been organised to honour the Clare Ras Team of 1990 and Introduce the 2023 Burren Ras Team currently representing the County.
The Maghera Loop 65k will recreate the famous Stage win by Barry Sutton in Clonmel all those years ago along the finish of this year's Ras Stage 2 route and finish line. All are welcome! Refreshments in Hassetts Bar, Barefield will be served afterwards. Confirm your attendance here.
Sunday, May 14th
Community Bike Ride
Starting in Lahinch at 2pm for an easy-paced cycle around North Clare (16km in total); register your place HERE
Monday, May 15th
Cycle to Work
Would you cycle to work on at least one day during Bike Week and have a chance of winning a three-month gym and pool membership, Dinner for two, or a voucher to the value of €100 for a bike shop? How to enter, cycle to work, take a selfie/photo, post on social media and tag @claresports or email directly to pat@claresports.ie
Cycle to School
We encourage all primary schools in Clare to prioritise having children cycle to school or cycling activities within the school grounds where possible. Post pictures to your social media channels tagging @claresports or email pictures to Pat@claresports.ie to be in with a chance of winning a full day of cycling for your school for FREE.
Reintroduction course
Ladies, join us at 6pm from our offices for a 90 mins refresher course. Work on cycling technique, group cycling and a short spin to finish. Register here.
Tuesday 16th
Community Bike Swap Shop
On Tuesday and Wednesday, from 9.30am to 4.30pm daily, we ask for donations of children's bikes and adult bikes (they must be in good condition) to our offices in Clare Education Centre, Killrush Road, Ennis, during these times. .
The bikes will be serviced before being rehomed. Register your interest in receiving a bike here
Learn to cycle
Join us at our offices on Tuesday from 10am until 11am to work on the basics of cycling and ensure you have the confidence and skills to cycle on the road. This will run Tuesday and Wednesday mornings. Open to all Adults over 18. Register here
Community Bike Ride
Join us in Shannon at 1pm for an easy-paced cycle around Shannon (13km in total); register your place HERE
Spin and Dip
A leisure cycle around Spanish Point @6pm takes one hour and is followed by a dip in the Atlantic Ocean. Register here
Wednesday, May 17th
Bike for Life
Six-week learn-to-cycle programme. This programme will teach you all about bike handling/skills, rules of the road and group cycling techniques Starting at 6.30pm from our Offices. Open to both males and females. Register here
Sunset Spin
Open to adults in the surrounding areas, join CSP on a leisure spin around Killaloe countryside and finish with an ice cream stop! Register here
Mountain Bike Taster
Join us for an off-road taster in  John O Sullivan Lee's Load Park at 3.30pm. Register here
Inclusive Cycling
Clare Sports Partnership and Ennis Voices for Autism hold a six-week cycling programme on Wednesday evenings in Clarecastle at 6.30pm. €20 per person. Register here
Thursday, May 18th 
Social Spin
CSP and Clare Council County staff invite you to join them at 1pm from the town hall for a leisure spin around the town, cappa and returning to the town hall. The cycle will be less than one hour. Register here
Off-Road Cycling
Try an off-road cycle by completing the Doonbeg Loop 10km loop from Doonbeg Church Car Park at 6.30pm. E-Mountain Bikes can be provided on request. Register HERE
Saturday, May 20th
Balance Bike / Learn To Cycle Workshop
Join West Clare Cycling Club for the balance bike/ learn to cycle workshop in Kilrush Sports Complex (astroturf) at 10am for this free 60-minute workshop. Open to children aged 4-12, all children must be accompanied by a parent. Pre-register on this link.
Sunday, May 21st
Wild Atlantic Way Social Cycle
West Clare Tri Club invites you to participate in a social cycle along the Wild Atlantic Way. Meeting at the Bandstand in Kilkee at 10am. Sign up here.
Programmes Running all week
Community Bike Servicing
Service your bike for free during bike week. We are delighted to team up with:
1. Landscape and Leisure, Kilrush
*** Please get in touch with each shop directly.***
Inclusive Cycling Programmes
Throughout Bike Week, several events will run for children with additional needs. Please get in touch with James on 087-9627696 for more info, or email us for more information.