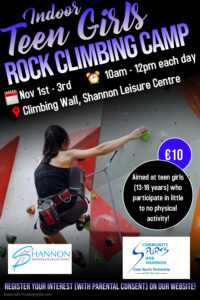 We are delighted to be partnering with Shannon Leisure Centre to bring an indoor rock climbing camp to teen girls in the Shannon area. This unique and exciting opportunity will allow participants to learn the basics of indoor rock climbing in a fun and safe environment.
The camp will run from Nov 1st – Nov 3rd, 10am – 12pm each day. This new and exciting camp is aimed at teen girls (13-18 years) who participate in little to no physical activity!
Please purchase a ticket to secure your place. The fee to part-take in the Teen Girls surfing camp is €10.00.