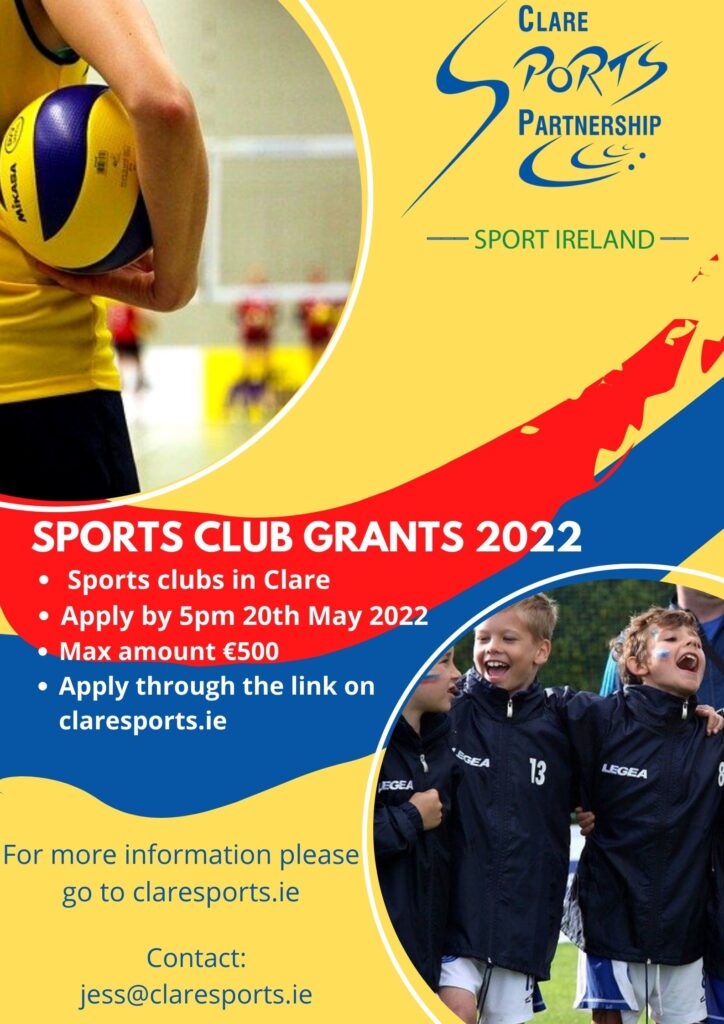 Introduction
Clare Sports Partnership has secured club development funding from Sport Ireland to support sports clubs in County Clare. This small club grant scheme aims to help clubs to support increased participation in Sports and Physical Activity and develop opportunities within our target groups – young people, women in sport, disadvantaged groups, ethnic minorities, people with disabilities, and older adults.
Core Objectives and Guiding Principles
The grant scheme aims to assist both new and existing not-for-profit clubs in creating structures that provide long-term development and benefits to the club. This grant could be used to support new equipment or training/education for volunteers/coaches to help them increase sustainability.
Small Club Grant Scheme 2022
A maximum of €500 can be provided to each successful applicant. Clubs must be affiliated to a National Governing Body (NGB) recognised by Sport Ireland.
How do I apply?
The application process is through an online form which must be completed before 5 pm Friday 20th May 2022.
Please find the application form here: Application Form
Eligible applicants must:
Be an established club that provides sport and physical opportunities.
Clubs must be registered with a National Governing Body recognised by Sport Ireland.
Operate as a "not for profit" entity.
Have a club/group constitution or equivalent documentation that includes policies and practices that encourage participation regardless of gender, age, race or ability.
Where the club has members under the age of 18, the club must operate under best practice for children in sport and be able to demonstrate certification in Child Protection & Safeguarding.
Clubs/groups must have suitable insurance cover in place.
Clubs / Groups must have a recognised bank/credit union account that clearly states the organisations name. Clare LSP never pay into a private account on behalf of an organisation.
Please find the full Terms and Conditions of Small Club Grant.