We are delighted to be partnering with Shannon Leisure Centre to bring a beginner indoor rock climbing camp to teen girls (13-18 years) in Co. Clare. This unique and exciting opportunity will allow participants to learn the basics of indoor rock climbing in a fun and safe environment. Participants will also get the chance to experience other activities based around climbing like peg board, traversing and slack lining.
The camp will run from August 8th – August 10th, 10am – 12pm each day. This new and exciting camp is aimed at teen girls (13-18 years) who participate in little to no physical activity!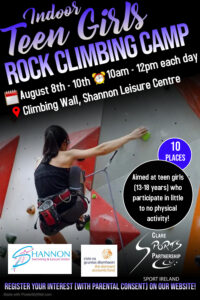 You must register your interest to be considered for this camp by filling out this form. There are 10 spaces available and participants will be selected based on application. The deadline for applications is Thursday July 28th at 4.30pm.
We will let you know if your application has been successful by Thursday August 4th. The fee to part-take in the Teen Girls Rock Climbing camp is €10.00 and is payable once a place has been offered to you.